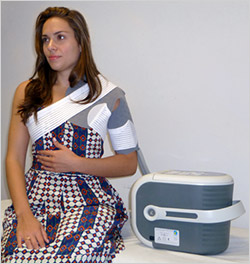 The Cold Rush Therapy System is available with a variety of Cold Rush Pads designed to deliver continuous cold therapy to the hip, knee, ankle, shoulder, back or hand. The unique, unbroken loop covering on the top portion of our Cold Rush Pads allows for use without foam wraps. Simply use the elastic straps to secure the Cold Rush in place. Safe, effective and non-narcotic method to treat post-surgery pain and edema.
Product Highlights
Go with the flow. By incorporating the same durable motor used in much larger mobile air conditioners and refrigerators, Cold Rush provides consistent cooling and excellent compression, even to high elevations.
Quiet as a whisper. Cold Rush uses a brushless motor to produce a whisper-quiet (30 decibel) unit that allows patients to get the rest they need to properly rehabilitate from their injuries.
Stay cooler, longer! The highest ice-to-water ratio in the industry and a design that produces less heat transfer from the motor to the water combine to ensure cold therapy pain relief for up to 6 continuous hours.
No igloos! Far more than just a modified beverage cooler, Cold Rush was designed holistically, with unique features like a locking lid to help prevent spills and insulated walls for improved cooling.
Reimbursement varies according to your insurance coverage –
Learn About Our Simple 3-Step Insurance Process!