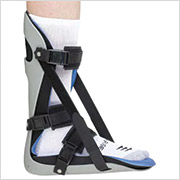 The Form Fit Posterior Night Splint is designed with comfort in mind. Key features include patented 3-dimensional padding throughout the shell and adjustable flexion straps that control the amount of stretch provided for effective treatment.
Indication
Plantar Fasciitis
Achilles Tendonitis
Other lower extremity overuse injuries
Reimbursement varies according to your insurance coverage –
Learn About Our Simple 3-Step Insurance Process!