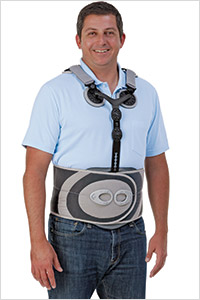 One for all.
Building on the modularity of the Miami Lumbar LSO, the TLSO Kit helps you reduce your inventory, while enabling you to properly and confidently fit nearly every patient you see. The Miami Lumbar universal belt, a selection of panels, and a T-Connector Kit are all you need on-hand.
Easy to fit.
Simply fit the Miami Lumbar LSO as you normally would. Then, set the desired height of the anterior and posterior thoracic extensions, adjust the twin-angle hinges and cinch down the trimmable shoulder straps to secure your patient in one of the most customizable off-theshelf TLSO's on the market.
Successful outcomes.
As your patient progresses through different levels of healing, you can step-down the TLSO to a standard LSO brace, or remove the ATE and add the optional axillary shoulder straps to the PTE. Whatever level of immobilization you need to achieve, the Miami Lumbar TLSO accommodates you at every step.
Reimbursement varies according to your insurance coverage –
Learn About Our Simple 3-Step Insurance Process!