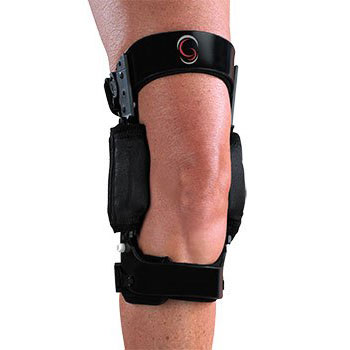 Ideal double upright OA knee unloader knee brace that is clinically proven to delay the progression of knee OA more effectively than exercise alone. Pneumatic air bladder system unloads the OA knee. Swing assist improves gait and facilitates increased quadriceps and hamstring activation strengthening the OA leg as the patient walks in the brace. Low profile design (12 inches long) combined with semi-rigid frame and rotating thigh cuff enhance brace comfort and eliminates brace migration. ROM polycentric hinges can provide extension / flexion control if needed.
Gait correcting, leg strengthening, ambulating therapy clinically proven to not only unload the knee but delay the progression of knee OA. The pneumatic air bladders on the unloading side of the knee joint and on the lateral side of the shin cuff allow for effective adjustable unloading of the OA knee. Improved knee extension during brace wear increases quadriceps firing to significantly increase quad strength over time. In clinical studies, after 90 days of brace wear, Grade III and IV OA patients had reduced UNBRACED knee pain of 43%, quad strength increased 54%, hamstring strength increased 28%, timed up and go improved by 17%, stair climb was 26% improved, UNBRACED gait was 11% faster, and the UNBRACED forces in the knee joint were reduced by 27%. Rehabilitation of the OA leg after 90 days of OA Rehabilitator™ brace wear has been clinically demonstrated to be more effective than exercise alone in delaying the progression of knee OA.
The OA Rehabilitator™ Knee Brace is prefabricated and is available in varus or valgus configurations. OA patients with mild to moderate varus OA or mild valgus deformities may be fitted with a Sport Rehabilitator which has air bladders on both sides of the knee joint. The unloading air bladder must be inflated first to properly unload the knee. The opposite air bladder is inflated next to increase joint compression and to reduce torque in the knee joint.
Features and Benefits
Increases quadriceps and hamstring strength
Reduces Pain and inflammation
Increases leg extension
Improves gait
Improves functional capabilities
IMPROVEMENTS RETAINED UNBRACED!
Guardian Brace Brochures and Literature