New Alignmed functional apparel is an integration of clothing, medicine, and technology which uses controlled resistance for physical therapy, increased mobility, and pain relief. Alignmed uses their patented NeuroBands™ technology to improve posture through Muscle Activation, Muscle Retraining, and Biofeedback. Alignmed products will train you to use your body more effectively.
"The medical technology built into the AlignMed Posture Shirt® represents a simple, cost effective care strategy for a wide variety of conditions."
-Stephen Hochshuler, MD, Spine Surgeon and Medical Director of the Texas Spinal Institute.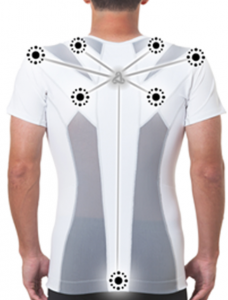 Engineered with AlignMed's patented NeuroBand™ Technology, the Posture Shirt® provides postural control, muscle activation important biofeedback for muscle retraining. View brochure
THE EXPERIENCE
Unlike anything you have put on your body, you will feel the effects of The Posture Shirt® immediately:
A Gentle Pull
Pain Relief
Core Alignment
Thermogenesis(This Is Your Muscle Activating)