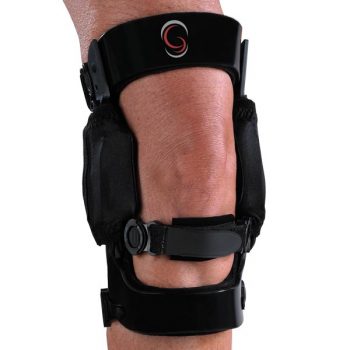 Empowers Patients to Take Control of Their
Knee Osteoarthritis
Get Back to Living a Normal, Active Life!
The Guardian Sport Rehabilitator™ is a new, clinically proven and non-invasive device that significantly reduces pain, corrects gait and strengthens the quadriceps and hamstrings, effectively delaying OA progression and potential need for total knee replacement. If surgery becomes necessary, it should be used before and after the operation to strengthen the leg to accelerate recovery and improve patient outcome.
Key Benefits
Significantly reduces knee pain and inflammation
Corrects abnormal OA gait with routine brace use

Stop limping, walk better and longer
Reduce strain on back, hips, knees and feet

Strengthens hamstrings and quadriceps
Delays progression of Knee Osteoarthritis
Improves outcome from surgery

Wear 30-90 days before surgery to strengthen leg, reduce pain and correct gait
Post-surgical use, combined with physical therapy, speeds recover
See more detailed information below on Guardian Rehabilitator use for TKA Prehabilitation
How does it work?
Guardian Rehabilitator™ achieves these results with a patented extension swing assist and pneumatic air components that no other wearable rehab technology offers.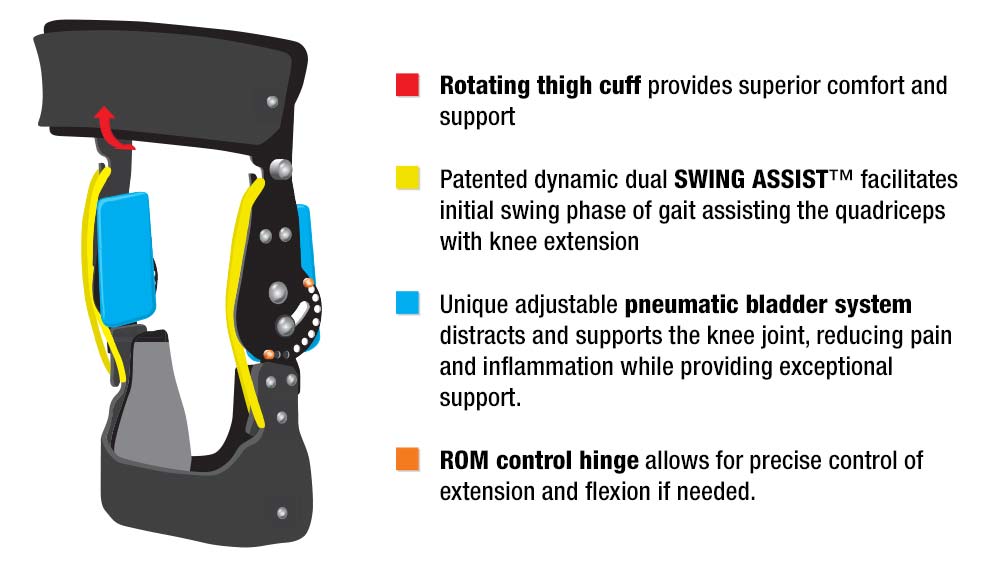 Clinical Study Findings
Patients literally walk their way to a stronger leg. By wearing the Guardian Rehabilitator™ for 90 minutes a day, over a period of 30-90 days, studies published in the Journal of Arthroplasty show that there is a notable decrease in pain and inflammation as well as improvement in gait. Improving gait means that people walk straighter and limp less, which reduces potential damage to hips, back, feet and knees. The studies reveal that hamstrings strengthen by 27.7% and Quadriceps by 54.1% which takes work away from the knee.
"Patients who used the Guardian Rehabilitator™ demonstrated statistical improvements in functional parameter tests. They had improvements in muscle strength, timed up and go tests, timed stair climbs, repeated chair rise tests and two minute walk tests, as well as greater improvements in new knee society objective scores, higher LEFS scores, and decreased pain on the visual analog scale when compared to a matched cohort of corticosteroid injection/physical therapy," according to the Journal of Arthroplasty study.
Testimonials
Sufferers of bone-on-bone arthritis in the knee say this about their experience with the Guardian Rehabilitator™
"Doctors told me that II would never play basketball again. Now I play regularly since I have support and I am pain free. It is by far the best sport brace I have ever had. TRY IT!"
– Mark Pierce, an athlete in his late 30's from Salt Lake City, Utah
After putting on the brace for the first time, and walking down stairs, John X said, "This is like night and day. I have not been able to walk like this in five months!"
Hiker Jim X tried on the brace for the first time and said, " I really love this brace; it's very comfortable"
"When I take it off, I feel like I am still wearing it – I'm already walking and feeling better after only 1 month."
– Dr. C., an orthopedic surgeon in New Jersey
For Clinicians
Total Knee Replacement (TKA) Prehabilitaton & Post Surgery
Provides gait correcting, leg strengthening rehabilitative therapy to pre-habilitate a weakened OA leg prior to Total Knee Replacement (TKA) surgery. When applied several weeks prior to TKA, the weakened OA leg can be significantly strengthened and gait can be normalized prior to the surgery to accelerate recovery and improve overall patient outcomes. Post surgically, the brace is used to manage pain and inflammation and to eliminate quadriceps avoidance gait to accelerate recovery.
Gait correcting, leg strengthening, ambulating Rehabilitator™ therapy is clinically proven to accelerate recovery from knee injury / surgery or to strengthen a weakened leg. The pneumatic air bladders on both sides of the knee joint provide excellent medial, lateral, and rotational control of the knee. When inflated, the air bladders provide therapeutic compression at the knee to reduce or eliminate knee pain and to effectively manage knee joint inflammation. The active swing assist eliminates quadriceps avoidance gait, increasing quadriceps firing to significantly increase quad strength over time. The gait correcting, leg strengthening Sport Rehabilitator™ can accelerate recovery post injury / surgery by up to 50%.
The Sport Rehabilitator™ uses pneumatic control of the knee joint, allowing the brace to be significantly lower profile than competitive ligament braces. The 11-inch-long Sport Rehabilitator™ has a semi-rigid frame and a rotating anterior thigh cuff. The lower profile design combined with the flexible frame and air bladder system provides superior comfort and brace migration control.
For Total Knee Replacement pre-habilitation, the Sport Rehabilitator™ is provided 4 to 12 weeks prior to surgery to strengthen the weakened OA leg and normalize gait prior to the surgery. Case studies demonstrate superior leg strength after 6 weeks of Sport Rehabilitator™ use compared to 6 weeks of home exercise or physical therapy prior to TKA surgery. Optimal leg strengthening pre-surgery should include Rehabilitator™ use as well as home exercise or physical therapy.
Post surgically, the Rehabilitator™ is used to manage knee pain, control inflammation, and eliminate quadriceps avoidance gait to strengthen the leg post surgically. The gait correcting, leg strengthening Rehabilitator™ accelerates recovery post TKA and significantly improves patient outcomes by enhancing leg strengthening and normalizing gait.