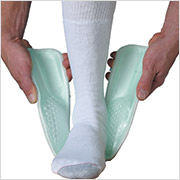 Our Airform Ankle product family offers three different/unique alternatives for the pneumatic treatment of acute ankle injuries. All three Airform products utilize our "Flex-Edge" technology to eliminate the pressure points caused by traditional stirrups and create a more comfortable experience for patients.
Indication
Acute ankle injuries
Post-cast and post-walker support
Chronic instability
Reimbursement varies according to your insurance coverage –
Learn About Our Simple 3-Step Insurance Process!