CPM (continuous passive motion) is a safe and effective way to prevent stiffness, reduce pain and swelling after orthopedic surgery to the knee, shoulder and elbow. Properly applied and used, CPM increases the chances of obtaining maximum range of motion following surgery or trauma. Speak with your doctor today about the benefits of CPM therapy and prescribing CPM for you.
Patented Technology that Changes the Way Real Extension is Attained Post-Surgery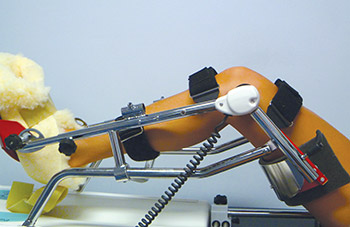 Patented breakthrough Game Changer technology gives the physician the ability to minimize contractures of the knee to maintain and attain full range of motion as quickly as possible.
A newly introduced element or factor that changes an existing situation or activity in a significant way.
Ideal for patients with a known extension deficit or concern of one
Finally static stretch is combined with passive motion!
Game Changer knee extension assist device can maintain and attain range of motion