Unique post-surgical protection
For Hip Arthroscopy patients, the Rebound Hip provides gentle controlling forces that facilitate healing while allowing them to safely perform daily activities.
Indications for Use
For successful post-surgical outcomes (following Hip Arthroscopy)
For protection against hip dislocation (Prophylaxis)
For pain reduction through positional and motional control in flexion, extension and abduction
Product Highlights
Dynamic Force – By applying a constant gentle force to the affected side, the femoral head position is maintained in the acetabulum. Conventional orthoses hold the leg in rigid abduction, which results in an abnormal gait pattern and compliance issues.
Functional Healing – By limiting flexion, extension, and rotation, the capsule is protected during critical post-surgical rehabilitation. Flexion and extension range of motion can be easily controlled by adjusting the stops in the hip plate; rotation can be addressed with the position of the thigh strap.
Proven – During clinical trials, patients and clinicians have agreed that the Rebound Hip provides a high level of control and effectiveness.
Dynamic Control – The hinge joint function results in dynamic controlling forces of the hip joint throughout the entire range of motion; even when sitting.
Sliding Joint – This innovative mechanism accurately follows the anatomical motion of the hip joint while maintaining the prescribed flexion/extension restrictions.
Modular System – The Rebound Hip is available in three lengths with four sizes of soft goods to optimally fit a wide range of patients. Length adjustments are unnecessary. It can be modified for different levels of abduction support and either left or right sided use.
Comfort – The anatomical shape and breathable aerospacer material keep the user cool and comfortable during use.
Inconspicuous – Minimal components and soft materials do not interfere with crutches during ambulation.
Gentle Lift – Simple fastening design with finger pockets makes user application and removal fast and easy. Clinicians can simply apply the Rebound Hip in a spine position.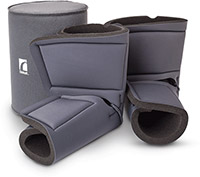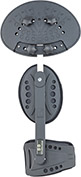 Reimbursement varies according to your insurance coverage –
Learn About Our Simple 3-Step Insurance Process!